Summer League Playoff Seeds for next week are set!!!
Seed:       Color (team #)
#1 seed:  Light Blue (team # 6)
#2 seed:  Red (team #1)
#3 seed:  Purple (team #5)
#4 seed:  Blue (team #2)
#5 seed: Green (team #4)
#6 seed:  Orange (team #7)
#7 seed:  Black (team #3)
—————————————————-
Keep Checking for pictures from the summer league. Courtesy of the amazing Anna Scipione.
—————————————————-
The traditional UCSD parking lot for Summer League has been torn up!!!  You can park in the lot further north, or you can park in the lots South of the field near the theatre parking, or you can park along La Jolla Shores Drive off campus.
—————————————————–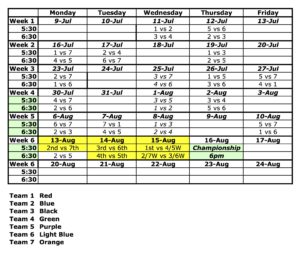 —————————————————
The UCSD Summer League is a San Diego lacrosse tradition! The league  offers a structured lacrosse atmosphere for teams formed from the pool of registrants and features a complete regular season plus playoffs, (10 games minimum). All games are officiated by certified referees, NCAA rules apply, and hitting is limited.
Players aged 16 and up
All skill levels welcome
League starts on Wed, July 11th, concluding with a championship around August 17th
Games will be held Monday through Friday with a possible Saturday game
Weekday games start at 5:30 or 6:30 p.m. (2 games per night/1 game per team per day)
All games are on Muir Field, San Diego CA, 92161, located on the campus of UC San Diego (La Jolla)
$155 for advanced sign up on or before June 30th. $185 for sign up after June 30th
Fee includes reversible jersey, certified officiating, & field rental
Space is limited. Sign up early.
Due to abuse in prior years, no players will be allowed to play until full payment is received. NO EXCEPTIONS.
IMPORTANT: SIGN UP EARLY! We have had to turn away players due to full enrollment
See Waiver and Release of Liability
See a Google Map of the field location.
For any questions, comments, or concerns, contact Contact Us
Some previous season pics are HERE taken by: Scippix